I'd like to say thanks to sweet Micaela for asking me to guest post! After years of following her blog, and experiencing all the real and raw moments, I'm very honored to oblige.
A little about me:
In the past 6 months I: moved to India for an internship, worked as a social worker in the slums of Mumbai, contracted typhoid fever, lost 30 lbs (ask me about my new typhoid fever diet plan!), saw the Taj Mahal, saw Mt. Everest at dawn, came home to my family in San Antonio, graduated with a master's degree in Social Work, got engaged to my favorite person in the world, and after 2.5 years of being long distance, moved with him to Houston for a month-long drug trial to combat a mutation in his Chronic Myeloid Leukemia. Next week we're moving back to Dallas to start our future together, leukemia struggles and bridezilla moments included.
My heart in a photo...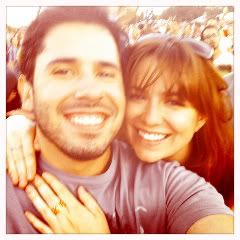 Austin City Limits Music Festival 2010
This blurry, sweaty picture with my f

iancé symbolizes everything in my heart - laughter, love, family, friendship, happiness, and thankfulness. I am so thankful for every single minute God gives us together.
in a song...
The Cure - Just Like Heaven
"Spinning on that dizzy edge, I kissed her face and kissed her head, and dreamed of all the different ways I had to make her glow" This song has always just spoken to me. I love it. Lovelovelove it.
in a quote...
"Passion, it lies in all of us, sleeping... waiting... and though unwanted... unbidden... it will stir... open its jaws and howl. It speaks to us... guides us... passion rules us all, and we obey. What other choice do we have? Passion is the source of our finest moments. The joy of love... the clarity of hatred... and the ecstasy of grief. It hurts sometimes more than we can bear. If we could live without passion maybe we'd know some kind of peace... but we would be hollow... Empty rooms shuttered and dank. Without passion we'd be truly dead." - Joss Whedon
The top of the world at dawn
I regretted not going abroad (I was that girl who didn't want to leave her boyfriend) as an undergraduate and promised myself if I ever got the chance again I'd do it - no matter what. That passion never left me, and last semester I was the first student in my grad program to study abroad.


an item of clothing...
Living in super-hot Texas, my favorite item of clothing definitely has to be summer dresses! They are airy and so easy to wear:
I clearly lack nice self-portraits... Busted checking myself out at IKEA.


a place...
My little girl dream was always to live in Paris and be a red-lipped, coffee-drinking, making-out-with-my-husband, art-loving Parisienne. In 2008, I spent two weeks traveling around Paris, practicing my french, taking pictures and sketching (i.e. butchering beautiful pieces of art) at the Louvre and Musée d'Orsay. I have never felt the need to sketch before this trip, but just being in this historic place made me want to capture every single moment with my hands... these little snapshots of my dreams coming true.