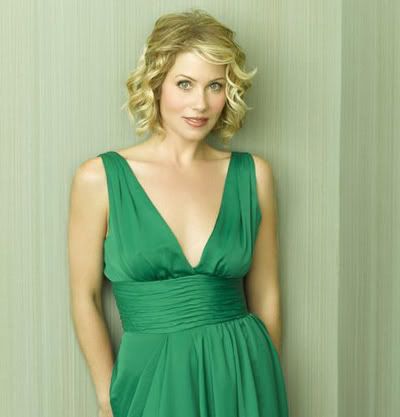 Christina
Applegate
is SO pretty. She always has been. Who didn't love her in "Sweetest Things" with Cameron
Diaz
and the annoying Selma Blaire?
lol
the ultimate girl movie!
I watched her on Oprah early this week and fell in love even more. She was talking about her decision to have a double mastectomy to be cancer-free. I can't even imagine, and I pray to God that I never have to.
There was a funny moment on Oprah where
Applegate
was telling her that doctors now can make "pretty boobies." Oprah is about to say, "before we take a break" but instead said, "before we take a look.." and kept going.
LOL
it was SO FUNNY! Christina
Applegate
was cute cos she goes [after Oprah corrected herself],
"I was about to say, now? how about afterwards?" or something like that.
lol
Oprah said she wondered what they looked like, pretty boobies.
lol
They both have GIRL POWER. Oprah's my
shero
btw
. :)
Cancer will affect every one of us.
For that reason, if you live in the Falls... Do yourself a favor... the good deed of the day and go to this: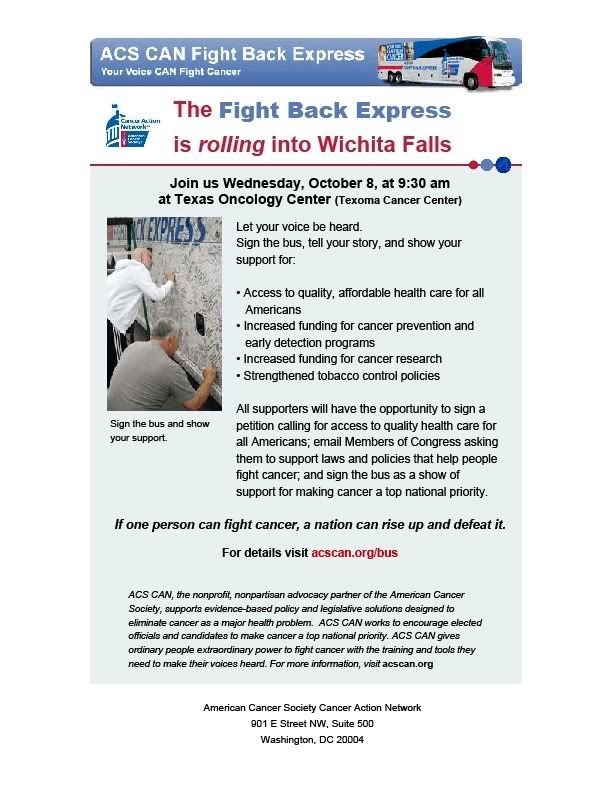 i totally wish i could make this bigger!
Karel is the executive producer for Channel 3 (my competition before ha). She emailed me at work to tell me about The Fight Back Express. I am SO there!:
"it's the Fight Back Express (the
american
cancer society cancer action network's way of getting the attention of lawmakers on capitol hill) the Fight Back Express bus will be here in
wichita
falls on
Wednesday
, Oct. 8
th
---at the
Texoma
Cancer Center from 9:30am until 11:30am. the purpose is to have everyone come out and sign the bus. the more signatures... the more chance we have of getting everyone on board this fight against that hideous disease. "
how can you not be moved? how can you not want to get involved?

i better see you there :)