i love it!
a couple of blogs ago, i mentioned going to an art show gallery of a fabulous sculptor i promised to tell you about.
My sister (who works as a media buyer) works with her and this fabulous artist works scrap metal in her spare time. Her name is Laura McCuistion Gillis. She has nearly 23 years of experience in the printing and graphic arts industry and as she says, her current focus is "building sculptures from scrap steel and found objects, taking recycling to a more enjoyable level."
Her work is "primitive and rustic-- allowing the metal to weather to a natural rusty patina." I love it. In the process of moving, I just knew i wanted something of hers to have in my new space.
These are the two things I bought (btw, forgive the quality of pics... my camera phone sucks!!! and you truly can't capture the gorgeous detail in picture anyway!):
dangling heart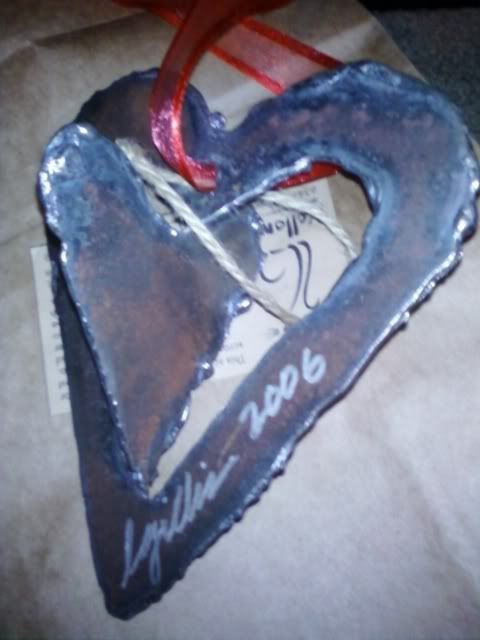 I couldn't believe this heart didn't cost a thing!!! I completely believe it'd make the best house warming gift or for any occassion for that matter! So if you're ever in need of a unique, sweet gift...
this one I got along with my twin. We bought a pair so when we see it in our houses, we will think of each other. We are both Pisces and so it fits.
Fish with Scales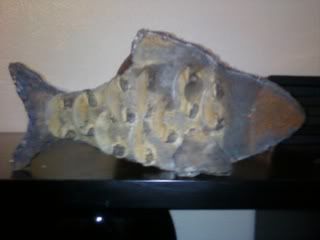 It's really pretty! the coils for scales stick out. Love it! When we were trying to decide which fish went home with each other, I joked with the artist that this one was for me, because ya see... the edges to mine are rough and jagged... Marianne's is much more smooth and fine. I told both that i had to have that one, of course, becasue I'm the one who's "rough around the edges." :) all of them laughed at me! it's true. ha.
Right now it's on one of my window sills but I think once I get my book shelf moved in, that's where this little guy will go.
If you're here locally, you should make a date and go see her stuff at the Red River Valley Museum. Her show runs til the 21st of Sept. You truly will enjoy Laura's stuff! I did. She's so cute too!!! If you should go, I'm sooo going to buy the small fish table! wish I had taken a picture of that.
From laura's words:

"I hope that my art will lift your spirits, make you smile and make you think about the delicate balance of nature and mankind. And, please- recycle!"