Current mood: artistic
Saturday morning me and Kate woke up hungry, so it was nice to be able to walk outside our place and across the corner to a burrito shop. We're in our jammies, her cute in a hat and I order a egg, cheese, and potato breakfast burrito. To which the normally sweet lady says, "Breakfast is over." ha. I guess nearly 11 is pretty late?
After eating, we decide to walk over and check out an antique store down the road. That's where we met our new friend Wily. Wily writes for the HUB in the paper and works at the antique store with his wife of 13 years. Both twice married. Him single for 12 years before her... her only a couple of months. He writes about books he likes. The classics... Whitman. Twain. Says he loves to get into a book and when you get to the last pages... it makes you angry (loved his gestures here!) because you don't want it to end. I know the feeling, my friend. Not angry for me though... more like dreading the end.
Micaela found a lot of goodies!!!!
best find of all: this fabulous mirror!
katy called it "italian vintage" LOVE IT! i wish you could see the detail better (my cam phone, again, SUCKS!) I bought it for a serious steal
this next idea i got from the decor blogs i frequent.
a did-it-yourself take on toiletries.
mason jars for cotton balls + q-tips.
if you look closely, you will see the one for cotton balls? says BALL. how fab!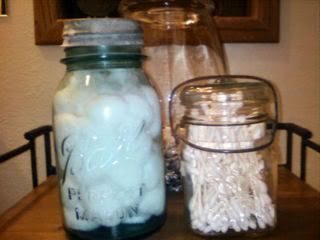 In college, we had a class where we had to look or find an old picture and restore it. Our artist of a professor suggested going to antique stores where they sell them for 25 cents at most. Since then, I've been on a quest to find old lovers pictures. A happy wedding shot. I haven't found it yet, but this came pretty close: ♥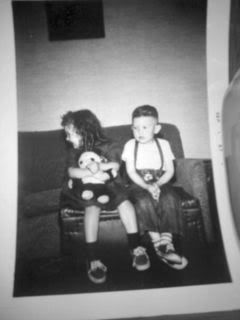 i think it's darling. Her laugh is great and she's holding a panda. aw

i put the picture here for now, right next to my sink in these built-in cubbie holes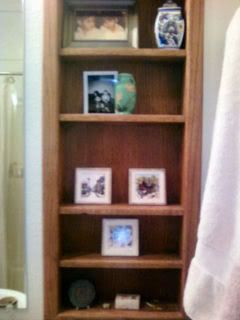 blurry, but you get the idea.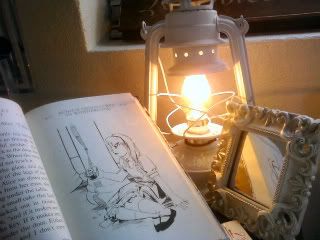 i fell in love with this old fisher's lantern! i love white too so i had to have it!
if you know me, you also know i love mirrors. i have a thing about them. This framed mirror worked. In the book section i found this copy of "Alice in Wonderland" illustrated. Had to have it! I once had a dirty dream about someone involving this book. It involved the door knob! ha! ENOUGH SAID.

btw, alice's cupcake says, "eat me."

AND THE FINALITY OF OUR ANTIQUE TRIP: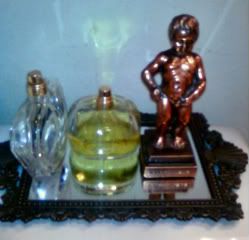 the peeing man trophy! HA! so ugly and questionable, had to have my hands on it!
wtf right??? little strong midget man holding his pee pee!!!

seriously. look.

so ya... he had to go by the toilet. Here's the rule. He's like my buddha. After peeing, for luck you have to rub (or kate said "pinch") his pee pee! :) ha!

only Micaela!

My new space is slowly getting together.
My bathroom is pretty much done. Yay! And i did do my vera wang :) Mom bought me the towels, trash (who pays $60 reg. price for a square trash bin?!), soap dispenser, toothbrush holder + cup.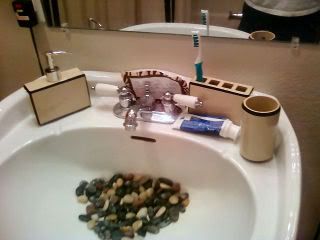 I love it! Bless my Mom!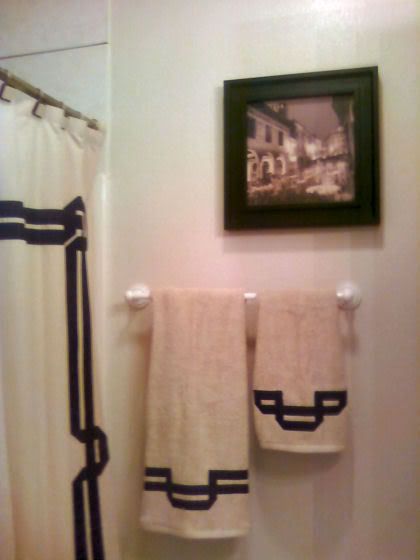 I'm proud of my finds... if you couldn't tell ;)